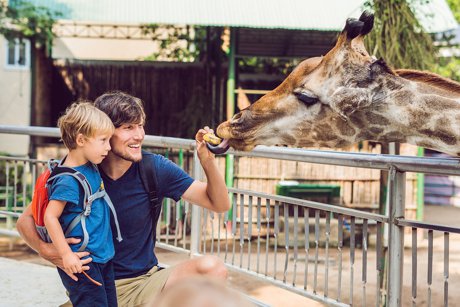 Don't wait! Jump into fun on Phoenix property. Guests go wild at the Phoenix Zoo where the world's animals wait to say hello. Plenty of adventure is in store for folks who can grin at a giraffe, blink at a baboon and lead troops like a lion. Journey into exotic lands when exploring the Africa Trail. View zebras zipping around and feed gentle giraffes. Peek in on the lions and grab a safari snack. Find your way on to the Arizona trail and check out the animals that can be spotted out in the wild closer to home. Traipse along the Tropics Trail and wander through the Forest of Uco. Look out for trumpeting elephants and stalking tigers. There's tons of chatter in the monkey village so keep an ear out for gossip.
Go Green and Learn All About Conservation on Phoenix Real Estate
Tired visitors to the Phoenix property re-energize with state-of-the-art 4D theater experiences. Both amusing and educational flicks are created for the big screen with all kinds of special effects to delight the senses. Parents can continue to unwind while the kids keep monkeying around on two play spaces. There's a slide to slip down and a kid-sized red barn to explore over in the Discovery Barn. And, in the Enchanted Forest there's a treehouse to climb, bridges to cross, and streams to wade through. The Endangered Animal Carousel is also found here letting the good times roll round and round. During the summer months splash pads help keep youngsters cool.
A leader in conservation efforts, the Phoenix Zoo takes helping the environment seriously. The fight for animals starts at home and local programs benefit species native to the Phoenix real estate region including black-footed ferrets, narrow-headed garter snakes and desert pupfish. Taking an active role in environmentalism, everyone can do their part. The zoo makes it easy with onsite recycling receptacles for ink cartridges, cell phones, cans and bottles.
Doors to the Phoenix Zoo open daily. Hours are seasonal so check online ahead of time. Tickets can be also be purchased through the website at a discounted cost. Get a glimpse of the zoo map and plan out the day before arriving.